Happy New Year Everyone!
"If you want to reach a goal, you must 'see the reaching' in your own mind before you actually arrive at your goal." – Zig Ziglar
The New Year is always a time for reflection and also a time to look to the future.  Many people make New Year Resolutions and then end up not keeping them once the excitement has died down. 
I have to admit that I am guilty of that also.  So I stopped making resolutions years ago and began to set goals for myself.
Zig Ziglar is absolutely correct, we must "visualize" the reaching of our goal in order to persevere to get there.  Many of us set a goal and deep down we don't really believe we can achieve it.  
So I want to encourage you today to visualize your goal, believe you can do it and take action steps to get there.
=======================================
Perry and I are looking forward to the New Year with an excitement.  QualityHits4U has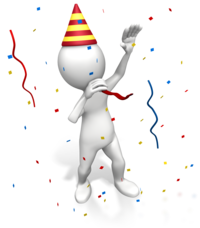 grown very quickly as we persevered in our advertising efforts.  But we are not stopping now.  
Our awesome members are also helping us to reach our goals for QH4U by putting QH4U ads into rotation everywhere and by voting for us daily.  Your efforts are appreciated by us more than you know!
Together, 2013 can be a record-setting year for QualityHits4U!  Can you see it?  Let's keep moving up and forward!
To Our Mutual Success!
Linda O.